If you are looking for Hat Yai to Kuala Lumpur bus via Padang Besar border crossing then this is the right guide for you. This is my personal bus trip from Hat Yai in Thailand to Kuala Lumpur in Malaysia. I was in Krabi Thailand and decided to go to Kuala Lumpur by road to see the countryside of both Malaysia and Thailand.
How We Ended up in Hat Yai?
I arrived with my friend at Hat Yai city from Krabi. It took us four hours by bus to reach Hat Yai city in the evening time. We hired a "Tuk Tuk" from the bus station which left us at our guest house which we already booked online. We got a guest house room in Hat Yai for only 300 Baht for two people.
After spending an hour at our guest house, we went out to see Hat Yai. We were surprised to see the city, it was almost quiet after 9 PM at night. Unlike the rest of Thailand, this city is very quite and silent. However, it still got a charm and class. This was a different experience for me.
Hat Yai to Kuala Lumpur Bus Ticket
We found two travel agencies near our guest house. The one was a lady who told us that a bus ticket for one person is 450 Thai baht. The bus will depart in the morning at 8 AM. However, she suggested we go by AIR. She said foreigners can't cross to Malaysia via this border. We got confused because we did not book any flights. We wanted to go the next morning, so time was short.
We found another travel agency nearby, and the guy repeated the same thing that foreigners such as Pakistani, Indian and Bangladeshi can not go from Thailand to Malaysia via this border (For other passports, it's not an issue). It is called Padang Besar on the Malaysian side. We were holding Pakistani passports. We got more confused, but we decided to go back to our guest house and to consult with the lady at the reception in our guest house.
We told the lady about the situation and our passports, she phoned someone and discussed the matter with them. She informed us a few minutes later that she can confirm the bus tickets for us. And rest will be our responsibility. Finally, we booked two tickets for 900 Thai baht from Hat Yai to Kuala Lumpur. We were told that the journey will be 8 hours long including the time spent at the immigration checkpoints.
Hat Yai to Kaula Lumpur by Bus: The Journey
The next morning at 8:30 am, we were ready to be picked up by the bus. And started the journey towards Kuala Lumpur. The famous border "Padang Besar" which is located in the Perlis state of Malaysia is just an hour away from Hat Yai. We reached there exactly after one hour.
We were still not sure, whether we would be able to cross the border as we were surprised by the agencies the previous night. But interestingly, everything was fine on the border. Our passports were stamped first by Thailand immigration, and then by Malaysian immigration.
The bus waits for all passengers at the border, and the luggage is also scanned for security purposes. At the immigration counter, there is a separate line for foreigners and a separate line for locals who hold permanent border cards. Anyways, the process was just easy and smooth, and it took around 30 minutes to get cleared from both the Thai and Malaysian immigration.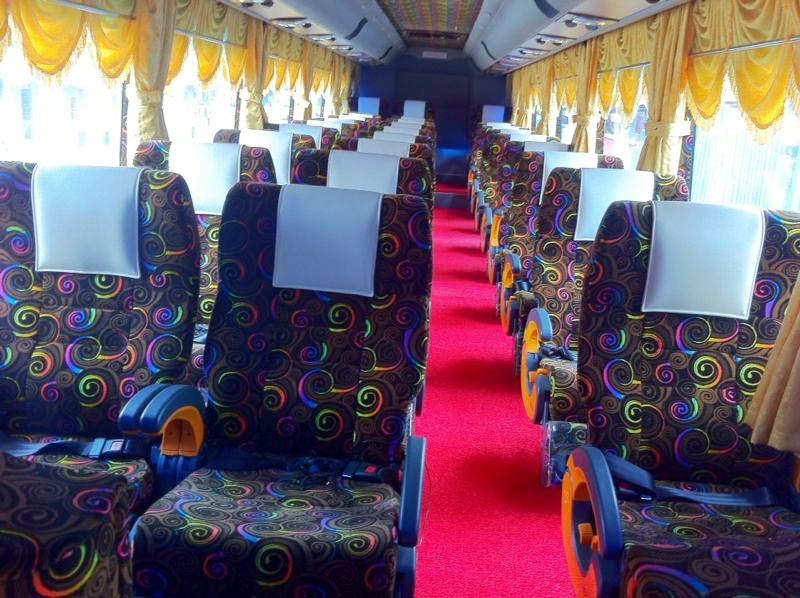 Padang Besar to Kuala Lumpur
After entering Malaysia, the bus driver took a stop for lunch in Malaysia. There was a nice restaurant with a buffet and self-service. It was not expensive. We just did our complete lunch for 15 RM (Malaysian Ringgits) for two persons. The rest of the journey was smooth and interesting. Because we saw a lot of scenery. On our way to Kuala Lumpur, we saw Ipoh and Penang in Malaysia. Both Thailand and Malaysian landscapes were green and beautiful. The Malaysian side is more beautiful because we had a long journey towards Kuala Lumpur.
We already had visa for Malaysia which we obtained in our home country Pakistan. The only question the immigration lady asked me was at the Malaysian immigration; why are you going to Malaysia by road and not by air? when air ticket is also cheap. I replied, I am an adventurer and want to explore places by road. I want to see the countryside of Malaysia. She said ok and stamped my passport.
Finally, this bus journey was very smooth. The bus seating was comfortable and there was enough legroom to sit easily. The whole journey took around 8 hours. We traveled in the daytime, so we enjoyed ourselves a lot. That's the end of this road trip story. Happy Traveling Mates.