Sometimes deciding where you want to go on vacation is just as important as deciding when to do it. Sure, some places are gorgeous month after month, but getting the timing right can make a good vacation great.
We're here to help with our picks for the best places to travel in the USA and other countries in the month of October. And since the COVID pandemic is still throwing wrenches into our travel plans, we've included plenty of places where you can feel safe in the great, wide open.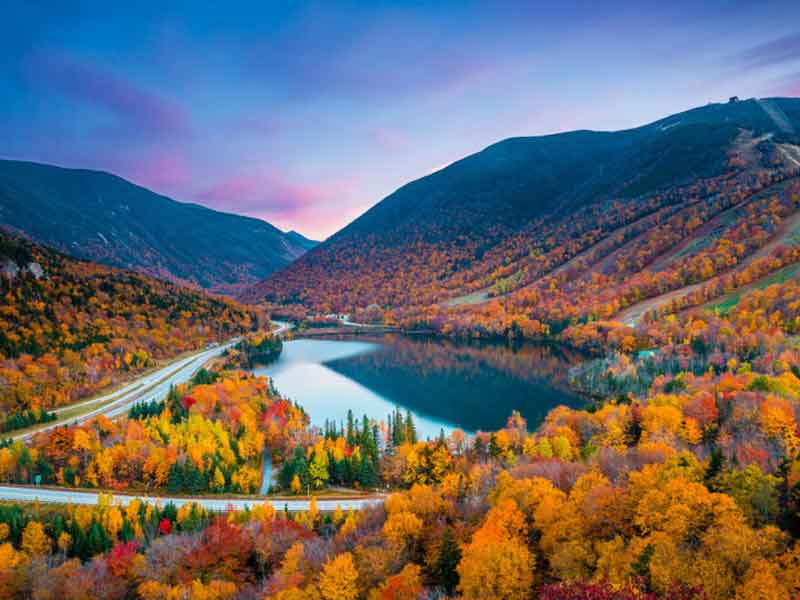 Fall is a great time to travel, not only to enjoy the beautiful scenery that's often enhanced by Autumn Foliage but it often means fewer tourists, lower airfares, and better bargains all around. If you're thinking about a fall vacation, you can't go wrong with any of these fabulous destinations.
If you're looking for inspiration for where to vacation in October 2023, take a look at our top recommended destinations in the US, and around the world.
Best Places to Travel in October 2023 in the USA
Arches National Park, Utah
October is the best month to visit this Iconic landscape when daytime temperatures average a pleasant 60-80 degrees as opposed to the intolerable summer highs of 100. The Arches National Park is instantly recognizable and 'Delicate Arch' or the more colloquial 'Old Maid's Bloomers' has become a symbol for the entire state of Utah.
This prehistoric landscape has more than 2000 of these unique natural stone arches, which began to form around 65 million years ago and continue to change and erode minutely as each day passes. The park is also home to some tribal petroglyphs, thought to be left by the nomadic Ute tribe of Native American Indians. There is really no other comparable place in the world, so get this on your bucket list.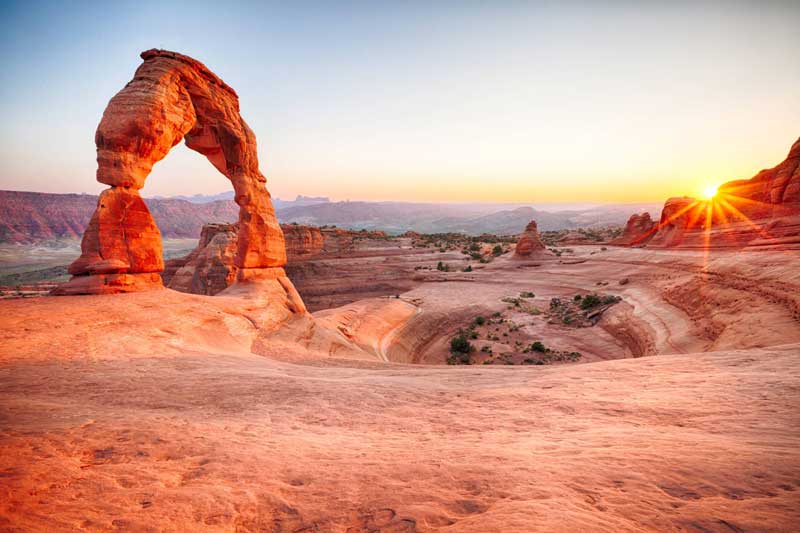 Things to Enjoy at Arches National Park
Auto Touring: Most visits involve driving the 18-mile scenic road.
Backpacking: There are few options for backpacking at Arches, Backpackers stay in designated sites and zones.
Biking: Biking at Arches means staying on the road. Mountain bike trails abound outside the park.
Camping: The campground at Devils Garden affords phenomenal views.
Hiking: Trails range from 15 minutes to 4-5 hours.
Horseback Riding: Everything you need to know about pack ad saddle stock.
Flagstaff, Arizona
One of the best times to visit Flagstaff is October when the summer crowds have dispersed, the scorching temperatures have dropped, the trees are alight with color and the weather is crisp and clear.
Route 66 will take you directly through this vibrant historic city, the perfect base for an exploration of The Grand Canyon National Park as well as more local monuments like Walnut Canyon, where you can visit ancient cave dwellings and the red sandstone homes of the Pueblo tribes. You'll find wildflowers and picturesque hiking trails and plenty of opportunities to ski and snowboard.
The city itself is bursting with culture from craft breweries and live music to the nationally acclaimed Museum of Northern Arizona. Stargazers can head up to The Lowell Observatory and catch breathtaking uninterrupted night skies. An absolute hidden gem and a must-see if you are planning on crossing Route 66 off that bucket list.
Top Things to Do in Flagstaff
Downtown Flagstaff: Get coffee at Macy's, Rendezvous, or Late for the Train. Enjoy a beer at one of the many microbreweries, eat some fantastic food, listen to music, or join whatever festivity is happening in Heritage Square.
Drive-up Snowbowl Road: Take the scenic chair lift ride at Arizona Snowbowl or go on a short hike from Aspen Corner. If it's fall, enjoy walking among the aspens changing colors. If it's winter, consider skiing or snowboarding at Snowbowl.
Lowell Observatory: This place should not be missed. Pluto was discovered here and that's just the beginning of how amazing this place is. There is a new observation deck and that's in addition to the telescope workshops, talks, and awesome exhibits they already had at the facility. Go explore space up close and personal.
Museum of Northern Arizona: Native American culture is a very big park of Flagstaff. The museum of Northern Arizona offers exhibits that are educational, historical, and often discussion-oriented in hopes of sparking and continuing the conversation of how to keep the ways of Native American alive and respected in modern society.
Buffalo Park: Take a little time out of your day to walk and loop at the park. It is a great place to see what flagstaff is really about. You will often see deer hanging out while people take their dogs for a walk or a run. You'll get great views of the San Francisco Peaks, and Mount Elden, and it's also a great place to get some mellow exercise while in nature.
Stowe, Vermont
If you are looking for an amazing fall destination guaranteed to have gorgeous fall foliage? Stowe, Vermont is the ideal place to go and one of the best places to visit in October in the USA. Set in a valley between Vermont's prettiest mountains, Stowe is as quaint as it gets, with a white-steeple Church, a charming general store, and an old-fashioned vibe.
To make the most of fall, head out on some of the great area hikes, end your day in front of a roaring fire, sipping on hot Apple Cider, and recalling your adventures.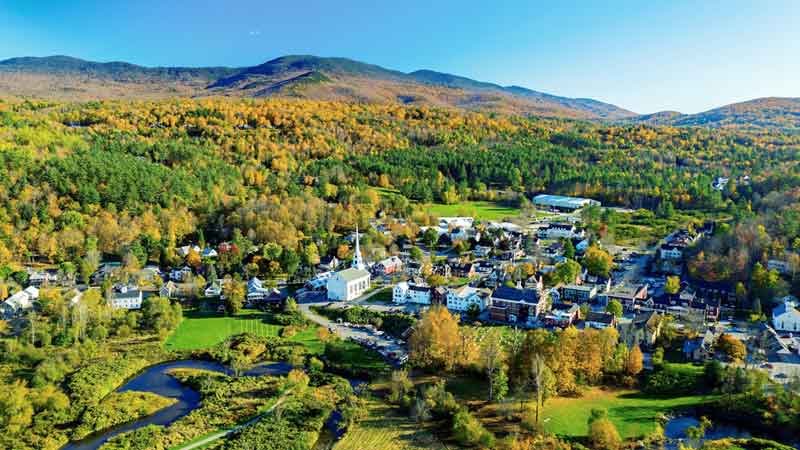 Best Things to do in Stowe, VT
Stowe is a year-round, outdoorsy destination. Hiking, mountain biking, and rock climbing are the spring and summer's main activities.
Must visit trails include Stowe Recreation Path and those found at Moss Glen Falls. Autumn brings great leaf-peeping along smugglers' Notch State Park. Winter sports are big here, too, so if playing powder hound is your aim, head to a resort-like Stowe Mountain to scratch your skiing itch.
Other popular pastime includes touring the Ben & Jerry's Waterbury factory and snowshoeing at Trapp Family Lodge.
Best Places to Travel in October 2023 outside of the US
Hallstatt, Austria
Hallstatt invites visitors to get lost in its colorful streets, offering seclusion and serenity that you won't find in overcrowded hot spots in Europe. This town nestled in Austria's Salzkammergut mountains is another "fairytale" world. It's beautiful all year round, but the colors change to create an enchanting scene during October.
Stroll around the 16th-century architecture, and you'll see why this town has quickly shot up to a prominent European hot spot. It's easily one of the most beautiful places to visit in Europe, and if you can book far enough in advance to get a good deal on accommodation, consider yourself lucky.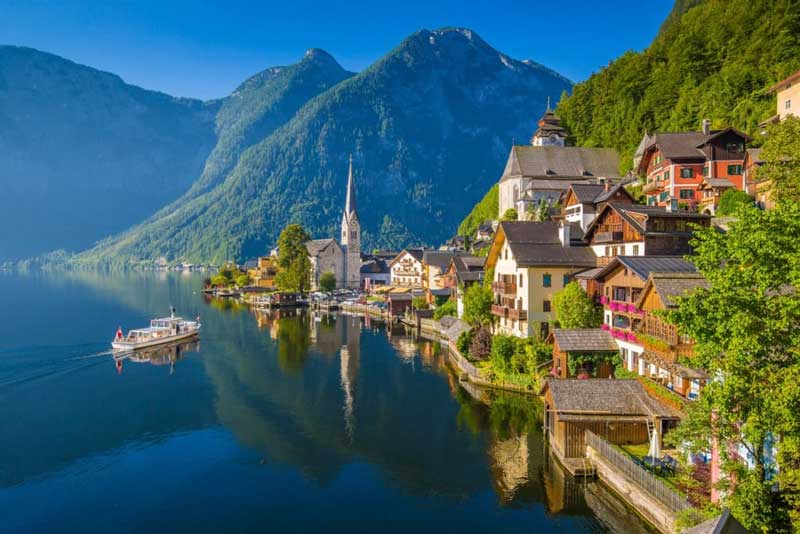 Austria is a landlocked country – so you'll have to get out on the lakes for water enjoyment. Thankfully Hallstatter See is a beautiful one, and one of the best things to do in Hallstatt is rent a small boat and enjoy Hallstatter See! Step away from the crowds and take in the area from the water.
Also, read: Best place to visit in Kuala Lumpur, Malaysia
Discover the Skulls at Hallstatt Ossuary:
Like the Catacombs of Paris but on a much smaller scale, Hallstatt Ossuary is home to human remains – but with an artistic twist. More than 1,200 skulls are neatly stacked in this subterranean charnel house. Of these, 610 have been delicately hand-painted, creating the largest collection of painted skulls in Europe.
Go Stand-up Paddle-boarding on Lake Hallstatt:
Don't just marvel at the lake – explore it by paddleboard too. The lake's calm nature means even stand-up paddle-boarding novices will be able to grasp the technique quickly, and you'll be hopping between bathing spots in no time. Be sure to rent a board close to sunset, as this is when the picturesque village is bathed in a glowing golden hue, allowing you to see Hallstatt in a completely new light.
Try Schaumrolle Pastry:
A Schaumrolle pastry is an Austrian delight made up of a cone- or tube-shaped pastry filled with whipped cream or meringue – yes, it's as delicious as it sounds.
Take a Trip to Museum Hallstatt:
This World Heritage Museum in the very heart of Hallstatt allows you to discover how people here lived 7,000 years ago when the area was settled as a salt-mining town. You'll also get a glimpse of some notable finds from the Hallstatt burial grounds and learn how the Great Fire of 1750 transformed the village into the postcard-perfect haven it is today.
Nikko, Japan
October is a great month to celebrate the coming of autumn in Japan. There are amazing spots to enjoy the beautiful nature such as hiking and autumn leaves viewings. Also, a number of events are held this month such as Halloween parties and delicious food events.
Nikko is a small town just two hours away from Tokyo and easily one of the best places to travel in October. If you want a venture into the Japanese mountains and see one of the tallest waterfalls in Japan, all before visiting famous shrines and temples surrounded by wild monkeys, then Nikko is for you.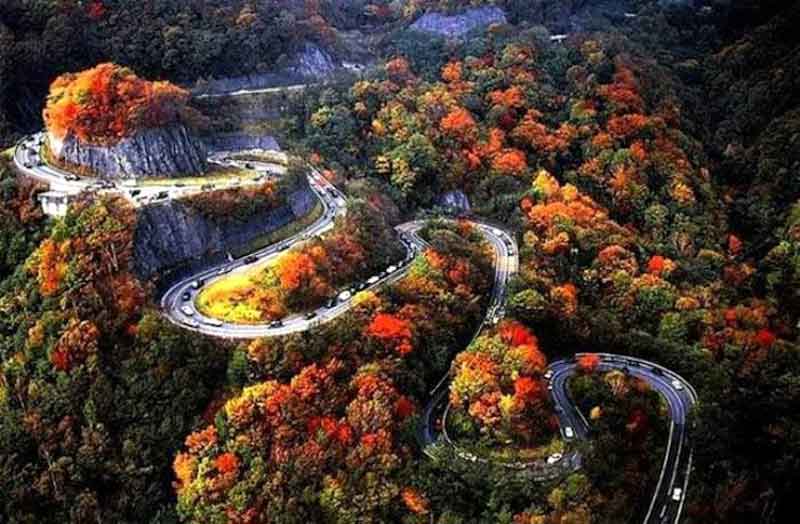 It is a fabulous place to travel in the fall as the colors came alive. Nikko is a photographer's paradise thanks to the bright red Shinkyo Bridge surrounded by beautiful colors. Don't forget to visit Kegon Falls during this season.
Visit Rinnoji Temple
Rinnoji is a UNESCO world heritage site and is considered to be Nikko's most sacred temple. This site has three key areas, inside the main building is where you will find towering gold lacquered statues of Amida, Senju-Kannon, known as Kannon with thousand arms, and Bato-Kannon with a horse head. While the Shoyoen Garden is beautiful all year round, it's most stunning in autumn.
Toshogu Shrine
It was a place of worship, while the complex is home to a collection of impressive pieces of traditional Japanese architecture, one of the most notable features is the five-story Pagoda. Situated in front of the main entrance gate.
Shinkyo Bridge
It's near impossible to miss. This sacred bridge was constructed in 1636. It is said there was a preceding bridge, but the details are lost to history. The bridge is technically part of Futarasan Shrine and up until 1973, was off-limits to the general public. Through the late 1990s and early 2000s, the bridge underwent renovations to bring it back to its former glory.
Marrakech, Morocco
If you're after a bit of hustle and bustle, Marrakech is the place to go. If you don't want to combat ridiculous heat on top of it, then you're on to a winner with October.
The arrival of the autumn season marks the best time, along with spring, to visit the city of Marrakech and the main sites that surround it. The days are warm, but without being stifling and the nights are very pleasant, there are many hours of sunshine so you can make the most of the days, the tourist influx drops considerably and therefore also prices.
You'll benefit from a visit during the shoulder season. Not only are the already-busy streets less blocked with tourists, but the oppressive summer heat also gives way to a more reasonable climate.
The temperature drops from the 30s at the beginning of the month to the 20s at the end, so you can plan your trip around your preference. Fares will be lower and the city will take on a slightly more authentic atmosphere due to the lower number of foreign visitors.
Trip to Erfoud for the Date Festival
Coinciding with the date harvest, the Date Festival takes place on October 17 in the town of Erfoud, which is located just over 500 kilometers from Marrakech. This is a very popular festival in which there is no shortage of sweets made from this exquisite fruit, very typical in the country, and farmers and Berbers from nearby towns come to show their products.
Adventure in the Sahara Desert
Everyone agrees that the most spectacular experience you can enjoy on your trip to Marrakech in October is a tour of the Sahara Desert. With the arrival of the autumn season, you can enjoy this experience in style.
Explore the Main Gardens of Marrakech
One of the best plans you can make in October is to visit the main gardens of the city such as the Majorelle Garden, the Jardin Secret, or the Anima Garden.
Yamma El-Fna Square Show
Located in the heart of Marrakech, the Yamma el Fna Square is a must regardless of when you travel the city, but in October it is very pleasant to visit and stroll around the pleasant temperatures.
And when night falls, this is the meeting place for storytellers, acrobats, singers, musicians, dancers, or snake charmers, among other unique characters. All of them will make you spend a unique moment as if you were immersed in a fairy tale
Conclusion
Hopefully, this helped you determine which of these best places to visit in October is right for you. These are some fine choices in different regions of the world for October though, so it's just a matter of zeroing in on the places that should be nice for the whole month.