If you have decided to go from Bangkok to Siem Reap by bus, then this is the right guide for you. I have traveled from Bangkok (Thailand) to Siem Reap (Cambodia) by direct bus, and I'm going to share with you the exact details of this journey so you will have a clue about what to expect upon arrival at the border.
Here is the quick answer: Bangkok to Siem Reap by bus crossing Thailand border to Cambodia
Two bus companies operate buses from Bangkok to Siem Reap and vice versa. Here are the addresses of these two companies, and you can also book the bus online from the given link.
Nattakan Transport
22 Sivatha Blvd, Svay Dangkom District, Siem Reap [map]
T: 063 96 48 96; 078 975 333
Buy tickets
Transport Co., Ltd.
Mo Chit 2 Bus Terminal (หมอชิต 2 (อาคารผู้โดยสาร), Bangkok [map]
+66 2 936 0657; +66 89 281 1396
Buy tickets
Why did I go from Bangkok to Siem Reap by bus instead of flight?
I did not make this journey to save money, but I like road trips, and whenever I get a chance, I do try road trips. That's why I traveled from Bangkok to Siem Reap by bus. Your reason might be different. Mostly, travelers who like road trips choose this option. Some prefer this to save money because flights may cost more. However, flights are very cheap in Southeast Asia; this bus journey costs between $25 to $30 and will take somewhere around 8 hours to 11 hours. You can also get a flight for the same or a little more price with AirAsia, and the flight will take only one hour.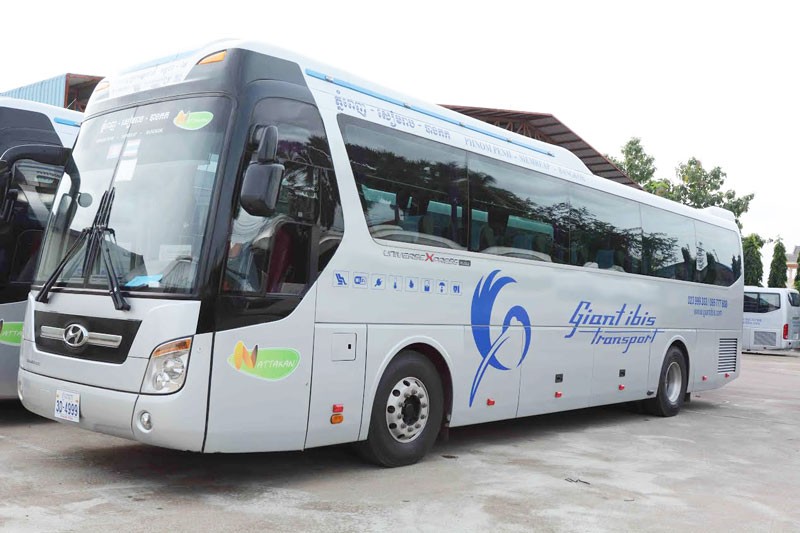 Where to Find the Bus in Bangkok?
First of all, the bus journey is long and hectic, especially at the border. You should be prepared for the unexpected, but since this is an adventure, you will enjoy it along the way. The name of the bus company which operates daily buses from Siem Reap is "Transport Co., Ltd." This is a government-owned bus company and has two daily departures, i.e., 8 am, and 9 am. You can go to "Mo Chit 2 Bus Terminal" in Bangkok and can buy the ticket directly at the bus station.
This bus station is also called the northern bus terminal or Chatuchak bus station. You can buy the ticket online from this website. I recommend buying online because sometimes in the busy season, you might not find a seat when you go to the station for a same-day journey.
Remember, this is a direct bus from Bangkok to Siem Reap. You can take two pieces of luggage with you 20KG each. If you bought the ticket from the station, then take a printout with you. If you purchased the ticket online, then simply show up with the electronic ticket on your mobile, and that will be just fine.
Bangkok to Cambodia Border
The bus will depart from Bangkok in the morning and will reach the border at 1 PM, depending on the traffic in Bangkok. You will get some snacks and water provided by the bus company, but I would suggest taking your own food with you in case their food is not up to your standard. The border is called "Poipet/Aranyaprathet," which is an international border between Thailand and Cambodia.
That's the point when the hassle starts, you will arrive at the border, and the bus driver will instruct you about the immigration process and visas. You will leave the bus and enter the Thai immigration building where you need to get an exit stamp on your passport. If you find the situation chaotic there and you can't see the exact place to get an exit stamp, then simply ask someone, and they will point you to the right place for the Thai exit stamp on your passport.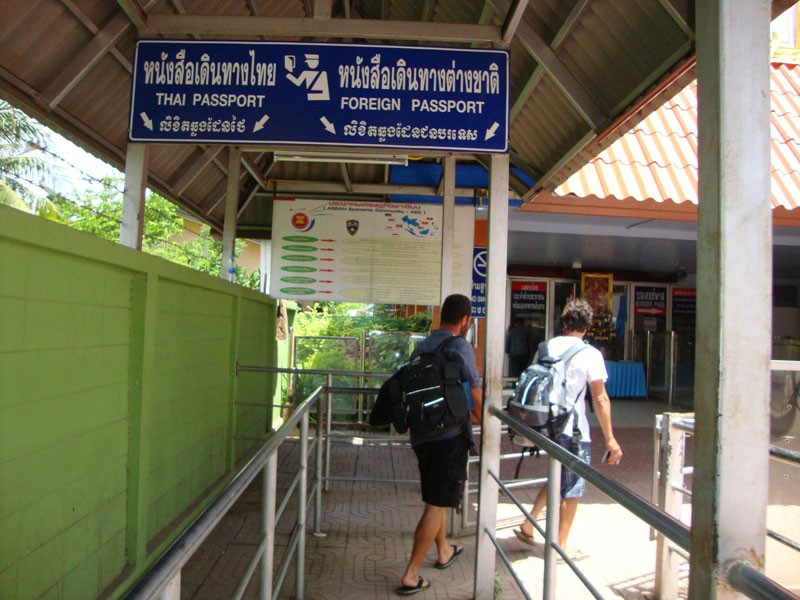 Cambodia Visa on Arrival or Evisa
Most nationalities don't need a visa in advance for Cambodia. You can get a visa on arrival at the border, which will cost USD 30. The immigration officer may ask for $5 extra as a processing fee, which is not valid. That's a kind of bribe, but if you refuse to pay, they will stamp your passport after a few minutes without that $5.
The immigration process will take around one hour (both Thai and Cambodia), including the visa process. You can obtain a Cambodia evisa online if you don't want to battle with the immigration officers. But visa will cost you USD 36. You can apply for Cambodia evisa here.
Note: If you are a citizen of Pakistan, then you can't travel to Cambodia by road using this bus, you should go by air, it was allowed before a few years when I traveled then they stopped it. The Cambodian immigration at the border will send you back to Bangkok and instruct you to go by air.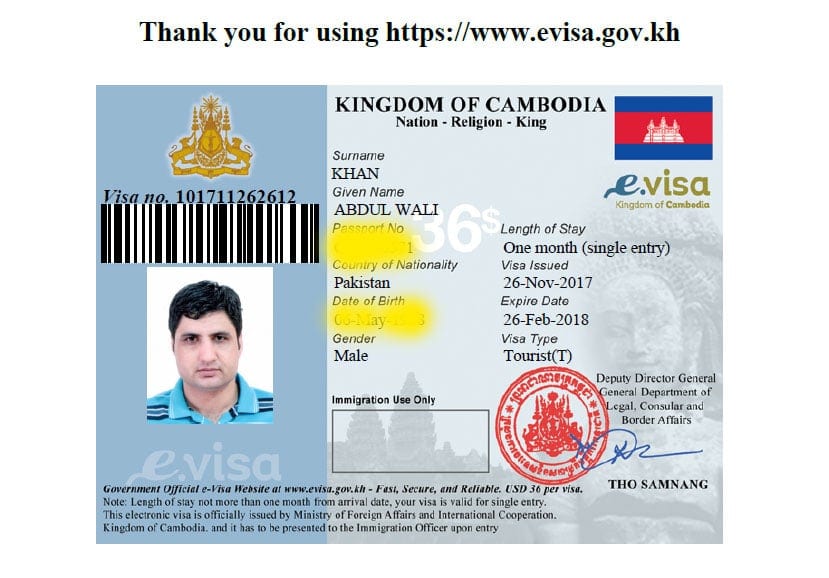 Thailand/Cambodia Border to Siem Reap
After the visa process is done, come out of the terminal, and the bus will be waiting outside. You will leave your luggage on the bus (this is why it's called a direct bus). From Poipet/Aranyaprathet border to Siem Reap city, the journey is around 3 hours, which is smooth, and you will enjoy the ride. Buses are comfortable with enough legroom, and you will be able to move around without any issue. You can call it luxury buses.
Frequently Asked Questions by Travelers
I know you might still have questions and confusion about whether to take this journey or not, and that's completely understandable because reviews are not so good on the internet. However, I will try to answer your questions here. These questions may pop up in your mind while thinking about this road trip.
Is it safe to travel from Bangkok to Siem Reap by bus?
Yes! Absolutely Safe. The worst scenario will be a small "scam" of a few bucks and nothing else. Don't worry, you won't be kidnapped, both Thailand and Cambodia are tourist-friendly countries and they will only try to grab some money from you but won't try to harm you unless you first start hurting them.
What currency is accepted at the border for visa?
It's better to take USD in cash with you. The visa on arrival fee is $30, and if you have that correctly, then you are good to go. In case you don't have USD, you can pay with Thai baht, but then you will have to pay more because they will give you a high conversion rate.
One more thing to note here is that in Cambodia, you will be using USD for everything. USD is a common currency in Cambodia. Therefore, you would always keep USD with you before starting your journey to Cambodia.
What are the requirements for Cambodia visa on arrival?
There isn't any specific requirement, but you should have a hotel/hostel booking with you, which mentions the address in Cambodia. You will have to write that in the visa form. You would also be expected to keep a return or onward ticket with you, but that's not asked all the time. Keep a few passport size photographs with you; that's a requirement, but they didn't ask me when I traveled, and I have heard the same from many travelers who made the trip recently.
Is the bus journey good for night time?
I wouldn't recommend traveling at night. It's always better to travel using this route in the daytime and reach your destination before night. There are some options available for a night as well, but I won't recommend them. One thing I want to mention here is that there are many private vans and companies that will offer you a lower price for this journey. However, that can be a very hectic and full of hassle journey. Because many people have complained about that. That's why I recommend using this official bus.
How expensive is Siem Reap?
Siem Reap is one of the cheapest travel destinations in Southeast Asia. You will find one of the best nightlife and culture in Seim Reap. You can book a 3-star hotel for as low as $20 per night in Siem Reap. I recommend Agoda.com for booking hotels because this will give you the cheapest options for Siem Reap. I have visited Siem Reap many times, and during my last trip, I got a deluxe room in a villa for only $20 per night. I booked that on Agoda.com, and my stay was the best value for money.
Conclusion of bus journey
I will mention again that this is not a hassle-free journey. If you don't like road adventures, then simply take a one-hour flight from Bangkok to Siem Reap, and that will be the best option because flights are not expensive at all. However, if you like road adventures or you have too much luggage, then you can simply use this route for a beautiful, unexpected road trip. Both Cambodia and Thailand are beautiful, and you will enjoy the scenery on the way. Once again, bring your own food if you are not used to eating anything and everything. Good luck!