Istanbul Airport to Taksim Square bus is available all day from New Istanbul Airport and also from Sabiha Gokcen Airport. Vice Versa, You can take a bus from Taksim Square to both New Istanbul Airport and Sabiha Gokcen in the same way. The company name is Havaist and I will guide you on how to find the bus and how much it cost from Taksim to the Airport. You can use the same bus service from Airport to the Sultanahmet area.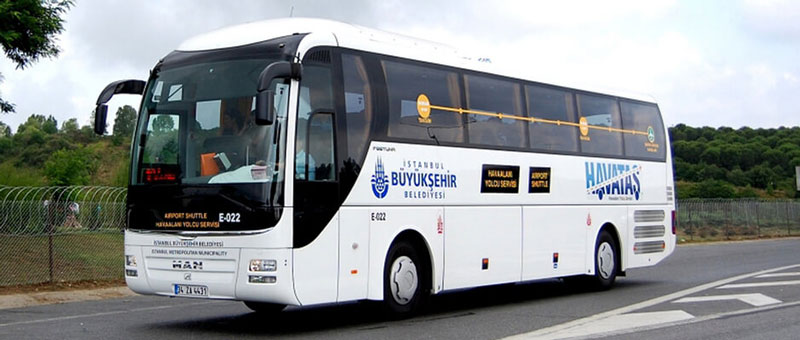 Istanbul Airport to Taksim Square Bus
After exiting the New Istanbul Airport. You will find a Havaist bus service which leaves for Taksim square every 15 minutes and it will cost 25 Turkish lira which is equal to $4 USD. If you did not find the bus outside the New Istanbul Airport then simply ask someone. Bus to Sultanahmet area departs from the new airport every 30 minutes.
One important thing to remember is that you have to pay by credit card or debit card or IstanbulKart. This was the case when I last time traveled from Sultanahmet to New Istanbul Airport. But do ask if they accept cash.
From Taksim/Sultanahmet
Now the same procedure applies to bus service from Taksim or Sultanahmet to New Istanbul Airport. Before this service was for "Ataturk Airport" in Istanbul but now since operations have moved to New Istanbul Airport the service is also redirected there. From Sultanahmet, you can get the Havaist bus to the airport in front of the blue mosque, and when I traveled last time they did not accept cash.
Sabiha Gokcen Airport to Taksim Bus
When you exited the Sabiha Airport, you'll see the "Hava Bus" or Havaist bus on the opposite side of the road, just go there and get on the bus. The fare is 18 Turkish Lira (as of April 2020), and it'll take almost an hour to reach Taksim, again depending on the time of arrival, if you arrive at night time then it might take only 40 minutes. But in the daytime, it'll take more because of the busy traffic in Istanbul.
As of my last trip to Istanbul, I did not find a direct bus from Sabiha Airport to Sultanahmet. I went to Taksim square and from there I took the train to Sultanahmet. Do ask the bus guys if there is any bus service from Sabiha to Sultanahmet as well.
Bus from Taksim
If you want to go to Sabiha Airport from Taksim square then again simply walk toward Gezi Park for 5 minutes, and you'll find "Point Hotel" in front of that hotel the buses are waiting for you and the bus departs every 30 minutes to both New Istanbul Airport and Sabiha airport.
If you didn't find the Point Hotel then simply ask someone about that hotel and they'll tell you the location, it's just very near. The bus will cost `8 Turkish Lira from Taksim to Sabiha Airport. You can also put "Point Hotel" on Google map and you will arrive at the exact place from where buses depart to Sabiha airport.
I've taken an image of Taksim square below, in this image you can see the Taksim square and the Gezi park, and you should walk straight as shown in the picture, and as I've indicated, you'll find the Point Hotel and Bus stop from where you can take the bus to any of the airports in Istanbul. I hope this helps.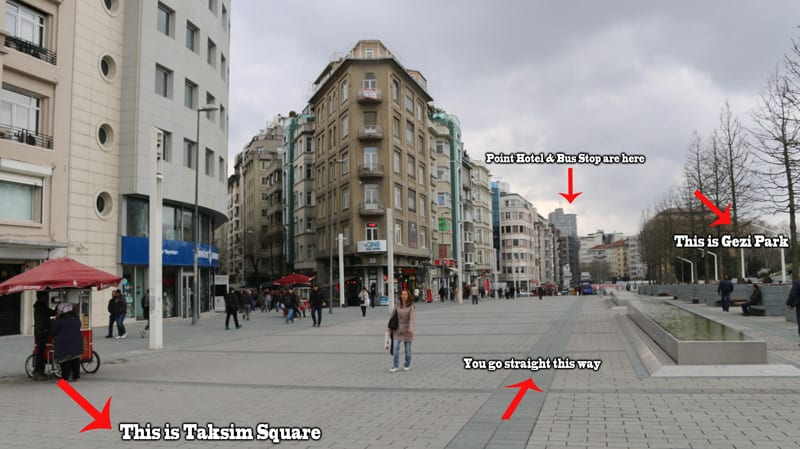 If my Istanbul Airport to Taksim bus guide has helped you then simply share it with others on Social media and do not forget to see my Istanbul travel guide in which I will share my experience of budget traveling in Istanbul.
Happy Traveling Mates!