You want to visit Dubai on a budget right? it is 100% possible. I will explain why Dubai is always possible on a budget because I have done it myself. Generally, Dubai is considered one of the most luxurious travel destinations in the world. People think it is only for rich people. Well, that's true but for some obvious reasons.
I mean, if you have thousands of dollars then every other tourist place is ready to accept you. But Dubai is always possible on a budget and let me share with you how I did on a budget many times.
How I Visit Dubai On Budget?
The first reason is, it's very near to where I live. I live in Karachi, and from here I reach Dubai in less than two hours. I always buy the return ticket from Karachi to Dubai at around $200-$250 USD. There is a low-cost airline called "FlyDubai" which I use to travel to Dubai, and there is always something crazy going on regarding cheap flights. I also use Skyscanner.com to find cheap flights to Dubai, I don't care about dates.
Now you might say, if you live near Dubai then we do not live nearby? well, that's right but there are always chances to catch a flight with a low fare. Emirates Airline, Etihad Airways, and Flydubai always offer promotional deals which you can grab. These airlines are based in Dubai so they want to bring people to Dubai and that's why they offer discounts on tickets to Europe, America, Asia, Africa, and Australia.
Where to Stay in Dubai on a Budget?
If you saved on a flight that's great. If you did not save on flight then you can always save money while booking hotels in Dubai. I personally stay in the Deira area in Dubai which is an Asian-Arabic neighborhood in Dubai. The good thing about this area is that you can catch the metro train anytime you want. There are dozens of Metro stations in the Deira area. All kind of food is available in this area and Burj Khalifa is just 5 KM far from Deira.
Now the real question is; how much a hotel will cost in the Deira area? Well, I always get a good hotel for $30 USD per night (2 stars). Most of the time, I have one friend with me so we split the cost with two and that becomes $15 per night for each person. If you do not believe this then simply go to Agoda.com and search "Deira Dubai" for your dates and then click on the "low to high" filter. You will even see hotels for less than what I mentioned.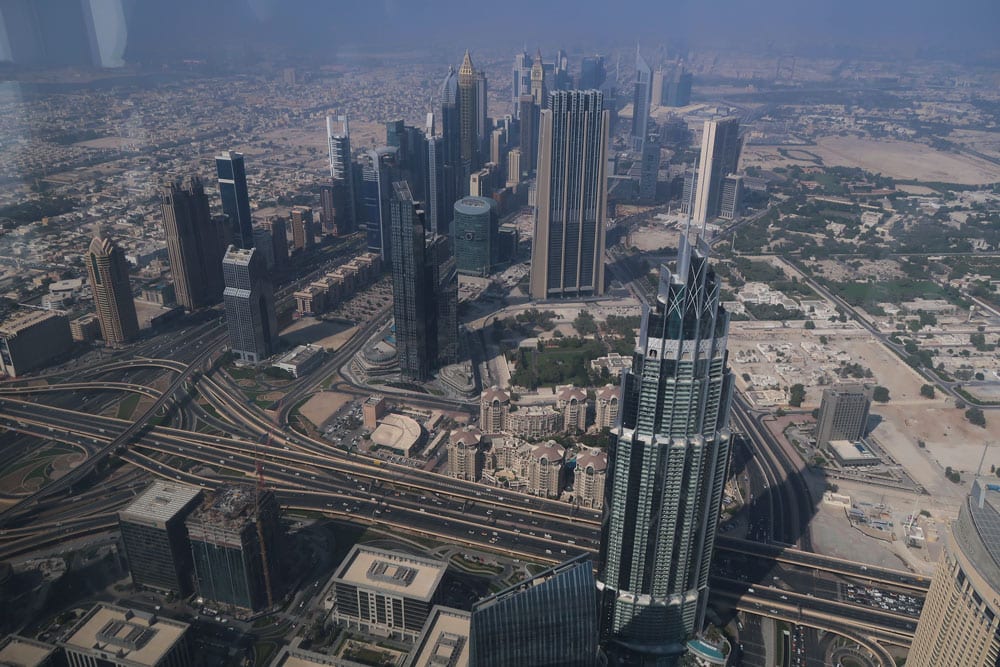 What You Can Do For Free in Dubai?
There are many activities in Dubai that you can do absolutely free of cost. For example, the world's biggest shopping mall AKA The Dubai Mall has no entry fee. And the world's largest tower Aka the Burj e Khalifa is next to Dubai Mall which is also free to see and take a selfie with.
The next thing is the Dubai Fountain Show which is an amazing Water Show being played every day at 6 pm and then continues after every 30 minutes. and that's located in front of Burj e Khalifa.
I recently visited "Dubai Creek Harbor" it was an amazing place for free. You can see that in the picture below.
I visited another place called "Blue Waters" and that is also for free. you can see the photo below about how beautiful the Blue Water was from where you can see Marina Beach.
One more place I visited for free was "The Pointe". From here, you can see the sunset view and also the view of Atlantis the Palm which is a landmark in Dubai. See the picture below for that scene. Thanks to my friend Syed Zeeshan Ali in Dubai who showed me these new places of which I wasn't aware.
You can go to Dubai beaches free of cost in Dubai Marina, Jumeirah Beach Residence, and Burj al Arab. Entry to the world's first man-made Island "Palm Jumerah" is also free, and there you'll find a beautiful hotel called "Atlantis the Palm" which is amazing to see and take some pictures.
What to Do in Dubai on a Budget?
Now, the best part of the journey is that you can do many amazing activities on a low budget. Visiting the 124th floor of Burj e Khalif has its own fun, and that only costs $34. You can book your ticket from this website.
Global Village is one of the most visited destinations in Dubai has $4 entry ticket. That's an amazing place with hundreds of pavilions and cultures of different countries.
Wild Wadi Water Park is one of the best of its kind. Do it for as little as $80 bucks. This is a water park just in front of the 7 star hotel "Burj al Arab" and you will have the best time in this park.
The Bottom Line
In my opinion, Dubai is always a budget destination if we compare it to Europe, North America, Australia, and Africa. I have been to all these places except Australia and I can tell you that Dubai is much cheaper than many places in the world. The only exception is Southeast Asia and South Asia. Shopping is the cheapest in Dubai and I sometimes go to Dubai just for shopping.
Now I want your feedback on this, please tell me in the comments what do you think about Dubai? is it really possible on a budget as I mentioned in the post? do you think it's cheaper than many places in the world? and nowadays it's economy is also not doing well so tourism is getting cheaper. let me know in the comments.