Kenya Travel Guide is for those who are either planning to visit Kenya or will visit this beautiful East African country. I was lucky to have visited Kenya two times in the last two years.
After exploring Europe, North America, and most of Asia, it was finally time to do an African adventure and Kenya wasn't a bad place to start with. I did visit Tanzania too on this trip.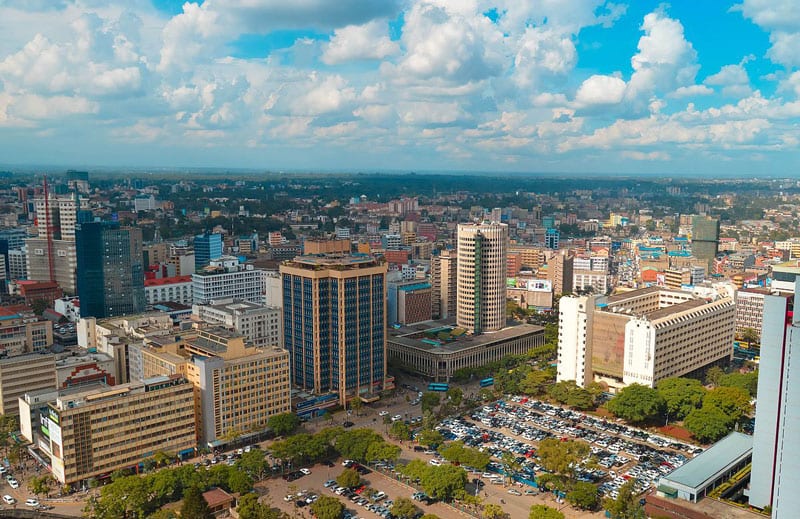 Kenya Travel Guide: First Step is Visa
Kenya visa is on arrival for the majority of the countries in the world and so was for Pakistani citizens. there is also a website from where one can obtain an evisa which is also available to the Majority of the countries in the world.
I obtained evisa of Kenya from the online website, and it cost me $50 USD which I paid online to the same website. It took only 3 days to receive this visa via email.
When I reached Kenya, it took 5 minutes to clear the immigration with Kenya evisa, and I found that a visa on arrival is also easily available at the airport for the same price.
Kenya Travel Guide: Airport to City Taxi
The airport is around 10 KM distance from the city center in Nairobi, and it costs exactly $18 for a single ride from Jomo Kenyatta Airport to Westlands in Nairobi, I stayed in Westlands which is a good area.
There are many Taxi companies in the airport terminal building which you can book, you can always negotiate the price because first, they demand a higher price. Always use official taxis.
The journey from Airport to the city was safe and smooth. it took around 40 minutes to reach the city center and I arrived at night time so did not see much.
Accommodation in Nairobi
I found a hotel on Agoda.com which cost me $35 per night in Nairobi, the area's name is Westlands which I found to be very quiet and clean.
it's just one KM away from the main city center. I always use Agoda.com for booking my hotel rooms in advance. Nairobi was generally not expensive in terms of accommodation.
Kenya Travel Guide: Food in Nairobi
I usually eat Indian food, but I didn't find any good Indian restaurants in Nairobi. I forgot to use Google to find restaurants, that might be the reason.
Nairobi is a relatively big city. However, there are many fast food restaurants such as KFC, Subway, and many others. so it was easy to find them anywhere and have good food.
Food usually costs around $5 per meal, I ate fast food in Nairobi, it always cost me $5 per meal.
Transportation in Nairobi
There are many public buses running all day in Nairobi, but I didn't use any buses during my two day stay in Nairobi. I used Taxi from the airport and then used UBER.
UBER was generally expensive, but it cost around $8 for a 10 KM ride in the city. I found motorbikes which cost very little.
I used a motorbike from the city center to my hotel in Westlands and that only cost me $2. it also saved me from traffic jams. so I recommend that as well.
Road Trip from Nairobi to Mombasa
After staying for two nights in Nairobi, I moved to Mombasa which is a coastal city in Kenya near Tanzania. Mombasa was a clean and green city which I liked.
I took a bus which cost me around $10 and that was not a quality bus, but I missed the luxury buses which are good. the journey from Nairobi to Mombasa took around 9 hours.
After getting off the bus in Mombasa, there were many Tuk Tuk (Rikshaws) waiting in front of the bus. I asked the price from one tuk tuk rider who demanded $2 for a 4KM ride, and that was a good price I thought.
I got into the tuk tuk with my luggage, I was scared a little bit, but the journey went smooth, the guy was honest. so I paid him 50 cents extra.
I got a hotel room in Mombasa for $25 per night which was again a nice room near the city center.
Accommodation in Mombasa is not very expensive, you can find a good hotel room in the range between $20 to $30 easily at the main place in Mombasa.
Tuk Tuk is the main transport in Mombasa which you can always hire for as little as $1 for 1 to 3 KM in the city. it's fun to explore the city in Tuk Tuk because the weather is awesome.
And I found many Indian and Arabic restaurants in Mombasa which was a good thing. during my two days' stay in Mombasa, I always used to visit these Indian/Arabic restaurants near Fort Jesus Museum and ate there.
it cost me $3 to $5 depending on the item I was ordering. I usually ate Biryani and Shawarma.
Points of Interest in Nairobi
There are many places you can explore in Nairobi. If you are looking for real life then go to the city center and walk around the busy market area which is just adjacent to the main city center.
Take a ride in the local buses which will show you all over the city for as little as $1. you can also visit the Rural area of Nairobi using the same buses. however, for wildlife and Safari in Nairobi, you'll have to visit Nairobi National Park.
In Nairobi National Park, you'll find real life animals and beautiful scenes. you can see that in my Kenya videos below. I have many videos on Kenya which you can watch on this page as well as on YouTube.
The Nairobi National Park is 10 KM far from the city center. I booked an Uber taxi to reach there, the Taxi cost me $8 one way. then I booked another taxi for $20 to give me a tour of the national park.
and the entry fee was $50 to the Park. it cost me $80 for visiting that national park, which is expensive I think.
Points of Interest in Mombasa
Mombasa is must visit place in Kenya. it has many clean and beautiful beaches as well as historical places such as the Fort Jesus and Museum.
The Old Mombasa city is another attraction that you should not miss which is just near Fort Jesus. And Fort Jesus is the main attraction in Mombasa.
However and remember, you must not miss visiting Mombasa Public Beach, Nyaali Beach, and Diani Beach. these beaches are clean and beautiful.
but be careful there, some people can cheat you. there are so many people on the beaches, especially on Sundays. visit local markets in Mombasa, you'll be amazed to see the customs and real life.
And last but not least, you must not forget to visit "Haller Park" in Mombasa which is a wonderful place to see so many animals including Giraffes. it's not just a park, but a whole forest.
Pricing in Mombasa was generally low, after finishing my Mombasa tour in Kenya. I moved to another country in the region called "Tanzania". story of that will be shared in my next post. Happy Traveling.