I paid 600 Thai Baht extra when I missed the Patong to Airport minibus in Phuket. As a frequent traveler, I was surprised how I missed the minibus from Patong to Airport. Therefore, I decided to make this guide for you so that it's not the case with you.
If you see the image below, this is the exact minibus that will take you from Patong to Phuket airport and they charge 200 Thai baht for the one-way journey from Patong to Phuket Airport. The journey from Patong to Phuket airport is not very long when you are going back because mostly the road is clear and you can easily reach your destination.
Mini Bus from Patong to Airport (Phuket)
You must book the minibus from the Patong Beach area to Phuket Airport in advance. it should be at least one day before your departure date.
I mean, if you are going to Airport tomorrow then you should book the Mini Bus/van today. Just go to any tour agency near your hostel/hotel and ask them about Mini Van to Airport. They will book it for you and it'll only cost 200 Baht.
If you didn't book one day before then it'll be very difficult to find the minibus on the same day. This happened to me when I asked a few tour agencies near my hotel; almost all of them said "NO". They said you must have booked it yesterday.
I had to book a taxi to the Airport for Thai Baht 800. which means I paid 600 extra. You can save this money by booking a minivan a day before your departure.
Taxi is always available from Patong to Phuket Airport. However, that is expensive for a solo budget traveler. It should be fine for a group but not for solo travelers.
From Patong Beach to Phuket airport the distance is almost 30 KM which will take around 40 minutes by van and taxi, subject to traffic jams in the Patong area.
Also read: Don Mueang Airport to Pattaya Bus
Mini Bus from Phuket Airport to Patong
Minibus or Minivan is always available outside Phuket airport. It will cost you 200 baht. During my last trip to Phuket, I arrived at the airport very late at night, but still, I found the Minibus.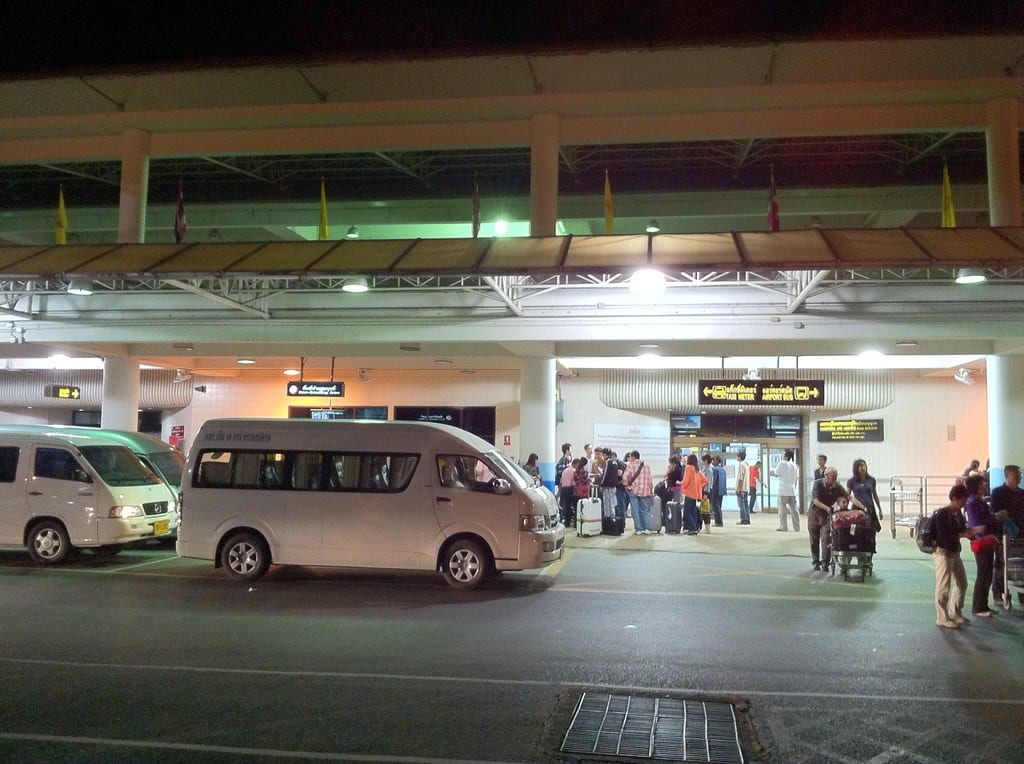 The fare is clearly written on the desk outside the terminal at Phuket Airport. One shouldn't have a problem finding it. that's the best way to reach Patong beach. Once again, if you are a group then it's better for you to hire a private taxi which will cost 800 baht from Airport to Patong.
Conclusion
It shouldn't be an issue to find a minivan from Patong to the airport and from Airport to Patong beach. The only problem is when you don't book it in advance while going from the beach to the airport. Similarly, if you are arriving at the airport late at night then chances are that you will not find the minivan at the airport. Your best bet will be a shared taxi at that time. If you are in Thailand and going from Bangkok to Siem Reap by road then we have a complete guide about that. Enjoy your time in Thailand the land of smiles.