My travel guide to Skopje is my own personal experience during my recent trip to this beautiful capital of North Macedonia in the Balkan region of Europe. You wouldn't believe that I covered Skopje under the $50 budget. I stayed for two nights in Skopje and I found it quite fascinating. I came to Skopje from Serbia by road.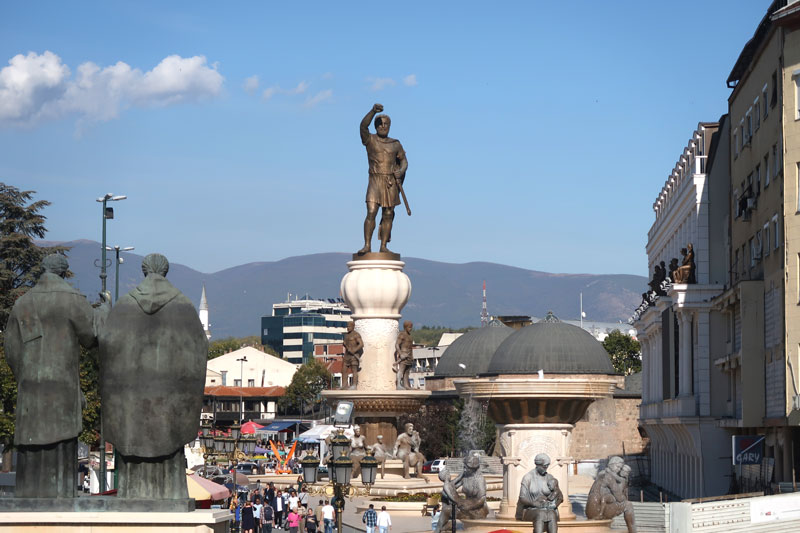 Travel Guide to Skopje: Visa for North Macedonia
North Macedonia is visa-free for most European countries, the USA, Canada, Japan, South Korea, Australia, and Israel. However, many countries require visa for North Macedonia including me. but citizens of all countries can also visit North Macedonia without a visa if they hold a valid US visa or valid Schengen visa or valid UK visa. In my case, I had a valid US visa so I entered Macedonia on that visa without a big hassle.
How Expensive is Skopje?
I came to Skopje by road from Serbia, the bus fare was $26, and it was a 7 hours journey which I've documented in another post. I had booked my hostel online using Agoda.com which only cost me $10 per day.
The hotel owner was a nice lady who give me so much respect and facilities at that little price. my hostel was located a few hundred meters away from the bus station, so I walked down there and found the hostel. It was located in the city center and I could easily explore the city by walking from my hostel.
I always use Agoda.com for booking my hotel rooms and hostels, which makes my life much easier. and since I had heard that Europe is expensive, I went for bed space in a hostel which was much cheaper under $10 a day. in fact, it was the cheapest accommodation I found in Europe.
Transport is not expensive either. you can find taxis everywhere which will cost $5 USD per ride for a few KM. I also used local metro buses which cost less than $1 per journey. Food is was $5 per meal in a good restaurant.
How Much in Total I spent?
I just spent $50 USD for two nights in Skopje. I got a hostel for $20 for two nights and then I used to go out and had lunch/dinner for $5 each. Breakfast was already included in my hostel. I had a great time in Skopje for the lowest budget and I would recommend you to do the same if you are on a budget. I went there in October which was off-season. I am sure it would cost a little more in the season but still, it shouldn't be too much.
Top 7 Tourist Attractions in Skopje
Seriously, man, Skopje is a city of "Statues". You'll find statues almost everywhere in the city center. but it's awesome to see too many statues in a small city like that. most of the attractions are located within walking distance in the city center. and I visited the following places in Skopje which I recommend to everyone while in town.
Mother Teresa Museum
Old Bazar, Skopje
Stone Bridge
Skopje Fortress
Museum of Macedonian Struggle
The Macedonian Parliament
Most of these attractions are located within the city center. I visited all of them simply by walking. and if you are healthy then you can also do the same. You can also take a guided tour if you have money and you like to do such tours but I personally visit places on my own.
I have a video about Skopje which you can watch below to get the real sense of this beautiful city in the Balkan region of Europe. Have fun.