Tirana Albania Travel Guide is my personal experience of this beautiful Balkan country in Europe. A small country with a 28,000 KM landmass and just 3 million people, strategically located in the Balkan region of Southeastern Europe. I found it to be one of the cheapest countries in Europe. I will share my experience with you on how I covered Albania under the $50 budget.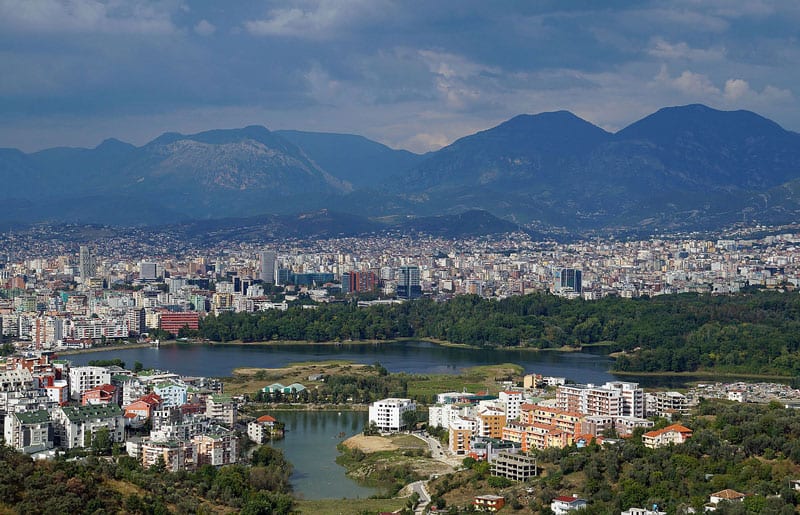 Tirana Albania Travel Guide: How to Obtain Visa?
I planned my Balkan tour when I came to know that most of the countries in the region give visa free access to those who have a valid US visa on their passport or valid schengen visa on their passport. Most of the countries from Europe do not require a visa to Albania. but we do require a visa so we must have a valid US/UK or schengen visa to have free entry.
Therefore, I also had a valid US visa which worked for me in the Balkans. Entry to Albania was hassle-free, and since the country is a secular Muslim country, it is very welcoming to tourists in the aftermath of the communist era.
How Much Did Tirana Cost Me?
Most of the Balkan region is very cheap in terms of almost everything. if we compare it to Central Europe then we can live here at almost half price or even less. I spent $25 per day in Albania which included a hostel.
Food cost as little as $5 per meal, and the hostel I booked was $10 USD per day. However, it was a bit of off-season. Transport is available in Tirana city in the shape of buses and taxis which can easily be found in the city.
Taxi cost around $3 to $5 for a few KM rides. and buses are $0.50 per ride within the city. I used both bus and taxi and enjoyed the trips because the fare was very reasonable and the trip was luxurious.
Are the Albanian People Friendly to Tourists?
The people are just good, they are new people. I was amazed to see that almost everyone on the streets was asking me "where are you from?". when I went to a local store, the lady asked me where are you from?, then I went to a restaurant and the guy asked me where are you from?.
Since Albania was not open to the world before 1991 in the strict communist regime. Therefore, people are now very happy and enjoying the atmosphere. People are very friendly and welcoming to tourists.
Where to stay in Tirana?
City Center is the best place to stay in Tirana and I did the same. I always use Agoda.com to book my hotel/hostel room, especially in Europe. you can put the specific place name on Agoda.com's search box and it'll give you a huge list of hotels and hostels. I also found the best deals on Airbnb in Albania.
Tirana city is very accessible from the city center and many attractions can be explored just by walk. I discovered many places in Albania by just walking on the streets. The below photo is from the city center.
Top Tourist Attractions in Tirana (Albania)
Tirana city is surrounded by mountains which is good because you can go to the mountain and get a panoramic view of the city. There is a cable car, which goes to the top of the mountain, and from there you can have the best view of Tirana city.
Many other attractions are located in the city center such as Museums, Opera houses, Churches, historical Mosques, and the popular Plaza hotel, and I explored most of them by walking myself. However, you can check with your hotel/hostel about different tours to nearby areas such as trekking/hiking and mountainous things.
Free Walking Tour in Tirana (Must Take)
This was the best part of my Tirana tour, in the city center square which is also called "Skanderbeg Square", there is a place called "Opera" which you'll see when you enter the main City Center Square. from there, you can take the free walking tour which starts every day in the morning at 10 AM and lasts two hours.
This is a guided tour and the guy is very nice and fluently speaks English. he gives information about the history of Albania as well as other important facts. The main focus is on the communist regime of Albania which was fun because I didn't really know that Albania was under strict communist rule for quite a long time.
The Bottom Line
Albania is a country that really touched my heart. People were so nice and friendly. The name of Albanian currency is "LEK" and as of this date, $1 USD  was equal to 117 Albanian LEK. Food was very cheap and very tasty in restaurants and also at shawarma shops. I loved the way people would ask me "Where are you from?" all the time and everywhere. The best part was the cable car which I took from the city to the mountain.
I hope you liked my Tirana Albania Travel Guide, if you did then do share it on your social media, and do not forget to watch the video I made in Tirana. Happy Traveling friends.