Are you planning to visit Phnom Penh, the capital of Cambodia? Here is my experience of two visits to this beautiful Southeast Asian country. What to do in Phnom Penh in two days? I will share what I did during my two days stay in Phnom Penh. It's one of the cheapest and easy to explore places in Southeast Asia.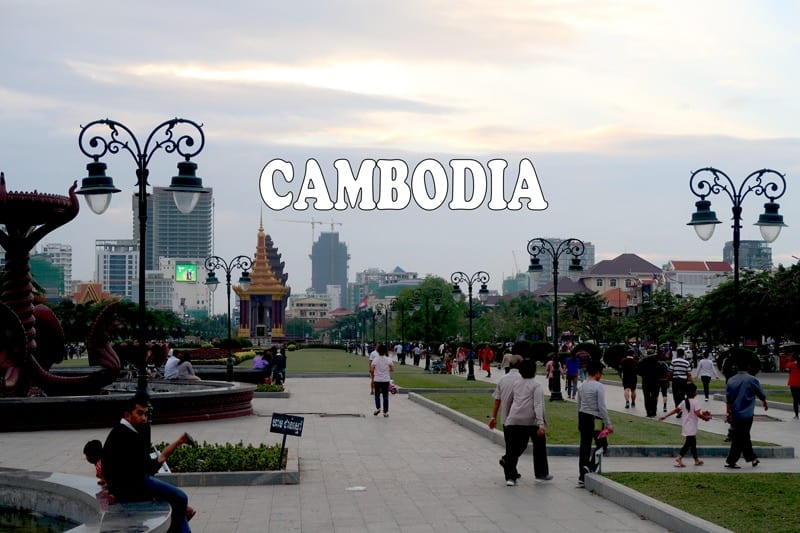 The First Thing is Cambodia Visa
Officially, a Cambodia visa is on arrival for citizens of all countries, including Pakistan. Cambodia also has an evisa system online. I used that service and got an evisa in advance before traveling to Cambodia. It costs USD 36. I got it from this website: https://www.evisa.gov.kh
I was asked many questions by AirAsia staff at Bangkok airport when I was going to Cambodia. I had to show my return ticket, hotel booking and they also asked for an invitation letter, which I didn't have.
so it was not easy as it seems on official websites and on Wikipedia. when I arrived at the airport, and the officer checked my passport, he saw many visas on my passport including a US visa then he let me go easily. I've written the Cambodia evisa process in a different article.
Airport to My Hotel
Phnom Penh is the capital of Cambodia. I arrived there; the Airport is not very big. Outside the Airport, there are official taxis and a tuk-tuk service. The official taxi cost around $12 to the city center, and the Tuk Tuk will cost around $6. Cambodian currency is called "Riel," and as of January 2019, 1 USD is equal to 4015 Cambodian Riel. It takes about 40 minutes from the Airport to the city center/downtown Phnom Penh. It can take less if traffic is not jam.
Accommodation, Food & Transport in Phnom Penh
Tuk Tuk is the best transport option in Phnom Penh city. The city is not that big. You can even talk to a Tuk Tuk rider for the city tour, and that should not cost more than USD 20.
For a short ride in the city, the Tuk Tuk costs between $1 to $5 depending on your negotiation skills and distance. I used Tuk Tuk many times for under $2.
All kind of food is available in Phnom Penh. Whether you like Arabic, Indian Cuisine, or Chinese, you'll find that all in the city center of Phnom Penh.
I quickly found a few Indian restaurants near River road and went there for lunch/dinner many times. Lunch/Dinner in an Indian restaurant cost me around $6 to $8 per meal.
Accommodation is very cheap in Phnom Penh. The most affordable I would say in Southeast Asia. I booked a room in a guest house, which was located in the heart of the city, and that cost me only $8 per night for a private room.
I always use Agoda.com for booking hotels/guesthouses online. You should book your hotel near the riverside, because all the attractions are close to that place, including nightlife.
What to see in Phnom Penh?
Phnom Penh is the cultural and financial hub of Cambodia. There are many historical places to visit as well as beautiful small/large markets. It's very easy to explore the city with the help of Tuk Tuk riders that you will find everywhere in the town, especially on the riverside.
Russian Market is one of the popular tourist attractions in Phnom Penh. The Russian Market is a little bit far from the city center, but the Tuk Tuk ride will cost $3 one way. That's a big market with so many products to buy at a low price. If you don't even want to do anything, then still it's worth visiting because it's a very traditional market in Phnom Penh.
Museums & Temples in Phnom Penh
There are museums near the city center such as the Cambodia National Museum and the grand palace of the king, which is located in front of the river in Phnom Penh city center. You can explore this place by walking if you are staying in the city center. I did the same; it was just a few minutes by walk from my guest house.
You can also take a cruise tour in the river which starts at 5 pm every day and cost just USD 5 for an hour tour in the big river. I decided to take that tour, and it was enjoyable. I was the only tourist on that cruise, and the rest of the people were locals. I interacted with the locals, and they were very friendly and welcoming.
If you are fond of Buddhist temples, then you'll find a lot of them in Phnom Penh, and temples are called "Pagoda" in the local language. Many of them are visible from the streets in Phnom Penh.
The riverside is a big attraction itself with several KM long walking tracks and beautiful greenery.
One important thing to mention here is that USD is used more commonly than Local Currency Riel. If you take USD with you, that would be much better and hassle-free for you.
Bangok to Phnom Penh by Bus
Many travelers who are visiting Thailand also want to go to Phnom Penh by road. However, the nearest major city to Thailand is Siem Reap, and that's a significant tourist attraction in Cambodia. I would personally recommend you to visit Siem Reap instead of Phnom Penh because Siem Reap is much better than Phnom Penh. That's a place where you get massive value for your money. I have written a complete guide about how you can go from Bangkok to Siem Reap by bus. If you want to visit Phnom Penh, then you can also go from Siem Reap by road.
The Conclusion
Overall, it's a very low-cost budget destination in Southeast Asia near Thailand. I was visiting Thailand, so I decided to visit Cambodia as well. You can go by road and by air. Both ways are cheap and comfortable. AirAsia has daily flights from Bangkok to both Phnom Penh and Siem Reap.
The complete tour didn't cost me more than $100 USD for two night's stay in Phnom Penh.
I have a few travel vlogs on Phnom Penh, Cambodia, which you can watch here on YouTube, and you'll come to know how exactly Phnom Penh in Cambodia looks look.
If you like this Travel Guide to Cambodia then please share it on Facebook.